Update August 29, 2013: Facebook has changed their terms of service to make it easier for companies to run promotions right on their Facebook timeline! Exciting news that should have every Facebook marketer geeking out. Check out the official blog post from Facebook.
In addition to hosting the promotion on your timeline, you can also manage your contest through an app. Using apps like I have reviewed below, can help you capture more lead information like email address. This could help you increase the ROI of your marketing spend.
We have put together a short list of products that can help you get your contest out to your fans and start increasing traffic to your page.
If you're going to be serious about running a contest or promotion, Wildfire is the place to go! They freaking rock and have even teamed up with Facebook on some projects. They offer a lot of different styles of campaigns based on what you're trying to accomplish.
You do have to pay for this service. They offer a bunch of different plans, but you can get started for as little at $5 and $0.99 a day for the length of the campaign.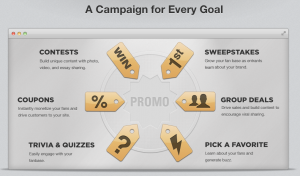 WooBox recently launched a really cool application called Instant Win. This application lets your fans enter your contest and see if they won instantly. You can set the odds of winning, retry interval, and the prize.
Another cool app from WooBox is their photo contest application. According the the Facebook Promotion Guidelines, you cannot require participants to upload a photo to your timeline in order to participate in a contest. This app allows you to have your fans upload pictures to participate and does so within Facebook's outlined guidelines.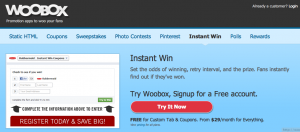 With ShortStack you can create custom tabs and contests on your fan page. Their custom contest functions allow you to easily add videos and pictures to your contest or promotion. Check out the ShortStack website.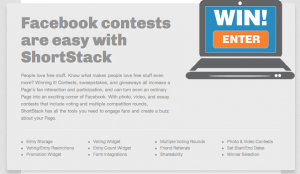 These guys have a TON of apps that you can use to grow your fan base. Their Sweepstakes for Timeline is one of their most popular applications. They have a great demo video here so you can check out how it works.
You will definitely have to make a financial commitment to use their apps: check out their pricing
.
Here is another cool option for you to check out. Nice thing here is you can try it for free to see if it is a good fit for you. They offer three different levels of the product so you can pick what works best for you.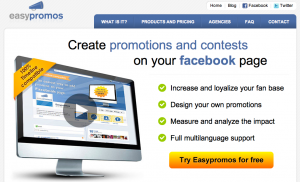 PS - A couple other Facebook Contest Apps for you to check out are AgoraPulse (which is awesome!) and Heyo.
PPS - Don't forget to read the eBook - Completely Unbiased Facebook Contest Apps Review, it's gotten a lot of great feedback.
What do you recommend?
There are a ton of options out there on the market for you to check out. This has just been a sampling, but it will help you as you seek out the option that best works for you. Have you used a contest or promotions application of your Facebook page or participated in a contest that you liked? Please let me know in a comment!